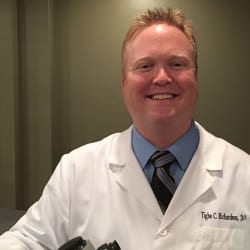 Tighe Curtis Richardson, DO
An expert in corneal refractive surgery (PRK, LASIK, etc.), cataract surgery, and corneal transplantation procedures, Dr. Richardson comes to Concord Eye Center from the USAF, where he most recently served as the Officer-in-Charge of the Ophthalmology and Refractive Surgery departments at Keesler Medical Center, Keesler AFB, Mississippi.
READ MORE
As a Lieutenant Colonel there, he supervised a cadre of 16 military/civilian/contract personnel and was responsible for the delivery of comprehensive surgical specialty care in the area of ophthalmology and refractive surgery to over 150,000 military members and their families in the Mississippi, Gulf Coast Region (Alabama, Mississippi, and Louisiana).
In summer of 2018, Dr. Richardson deployed to Afghanistan in support of Operations Resolute Support and Freedom's Sentinel. There he acted as the sole Ophthalmologist in-country and member of the Trauma Head and Neck Team, providing clinical and surgical care for NATO, American, and Afghan coalition forces.
Dr. Richardson began his career in 2001 when he accepted a Health Profession Scholarship to become an Air Force Medical Officer. He attended Osteopathic Medical School at Western University of Health Sciences in Pomona, California. He then completed his transitional internship at Providence Medical Center, in Southfield, Michigan. In 2006, he began his ophthalmology residency at the Naval Hospital San Diego, where he became the first "Navy-trained" AF ophthalmology resident. In 2008 he became the first DoD ophthalmology resident to take part in the Pacific Partnership Humanitarian Deployment, stationed aboard the USNS Mercy Hospital Ship. After graduation he reported to his first AF duty station at Wright-Patterson Medical Center, Wright-Patterson AFB, Ohio; where he quickly became a well versed refractive and cataract surgeon.
During his military career, Dr. Richardson has served in a variety of assignments to include, Chief of Ophthalmology (Wright Patterson AFB & Keesler AFB), Director of the Keesler Refractive Surgery Center (KAFB) and Aerospace Ophthalmology Consultant and Deputy Branch Chief, Aerospace Ophthalmology (Aeromedical Consultation Service, USAF School of Aerospace Medicine). He currently has transferred from active duty and is now a flight surgeon with the Air National Guard.
Dr. Richardson is a fellowship-trained Corneal Refractive Surgeon and Corneal Transplant Specialist. He is board certified by the American Board of Ophthalmology and is a member of many professional societies. He is also an Associate Professor of Surgery at the F. Edward Hebert School of Medicine (Uniformed Services University), Wright-State University, University of NY SUNY, University of Buffalo School of Medicine, and Tulane University School of Medicine.
Lt Col Richardson is married to his wife Lindsay, a nurse, and has three children; Maxon, Mackenna, and Samuel. They love spending time with their two dogs, and are avid outdoors enthusiasts. After years of moving from base to base, they are all very excited about settling down and becoming part of the Concord community.